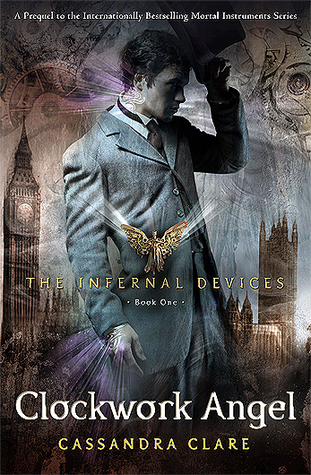 In a time when Shadowhunters are barely winning the fight against the forces of darkness, one battle will change the course of history forever. Welcome to the Infernal Devices trilogy, a stunning and dangerous prequel to the New York Timesbestselling Mortal Instruments series.

The year is 1878. Tessa Gray descends into London's dark supernatural underworld in search of her missing brother. She soon discovers that her only allies are the demon-slaying Shadowhunters—including Will and Jem, the mysterious boys she is attracted to. Soon they find themselves up against the Pandemonium Club, a secret organization of vampires, demons, warlocks, and humans. Equipped with a magical army of unstoppable clockwork creatures, the Club is out to rule the British Empire, and only Tessa and her allies can stop them…
my review
Clockwork Angel by Cassandra Clare
My rating: 4 of 5 stars
Man, it's been awhile since I last read one of Cassandra Clare's books. I feel in love with her Mortal Instruments series. That was the first series that I've read from her and while I was waiting for the last book in that series I decided to buy all three books from Infernal Devices Trilogy, which is also a prequel series to the Mortal Instruments series. I was convinced that I would love each book and to be honest, so far I am. Thankfully, might I add, since lately I find it hard to find really good fantasy books that move you. And Clockwork Angel is now one of my new favourites. What I find so great about Cassandra Clare's writing style is that I, as a reader, can really envision the places this book is taking place in. I can connect with the plot and the characters so easily, that in the end it's truly a pleasure reading one of her books. And while the Mortal Instruments take place in the present time, this series is taking place in the 19th century. I'm not much into histirical type of books but I did enjoy that concept in this series.
And as for the plot in this book, I liked it. There were some plot twists that I didn't see coming, not by a long shot, but that's what makes it a good story. The same can be said about the characters. You could say that liked the majority of them. My favourite ones of course being the main characters but I also liked the rest of the team. Not so much Jess and Tessa's brother and the vampires, since their personalities were just not what I would like to see in a friend. But what surprised me the most is that we get to see more of Magnus Bane and how he lived in this time, before he met Alec. I liked his character right of the bat and this book just proves that my intuition is spot on.
All in all, this is a great book and a nice start of the series.