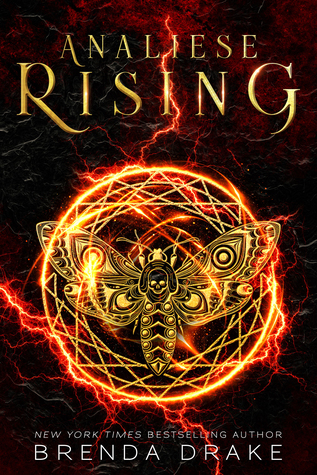 Half-Blood meets Antigoddess in a thrilling, romantic new series from New York Times bestselling author Brenda Drake.

When a stranger gives Analiese Jordan a list of names before he dies, the last thing she expects to see is her own on it. Not. Cool. Her search for answers leads to the man's grandson, Marek, who has dangerous secrets of his own. Both are determined to unlock the mystery of the list.

But the truth is deadly. Analiese is a descendant of the God of Death, known as a Riser, with the power to raise the dead and control them. Finding out she has hidden powers? Cool. Finding out she turns corpses into killers? No, thank you.

Now the trail plants her and Marek in the middle of a war between gods who apparently want to raise an army of the Risen, and Analiese must figure out how to save the world—from herself.
my review
Analiese Rising by Brenda Drake
My rating: 2 of 5 stars
I voluntarily read and reviewed an advanced copy of this book. All thoughts and opinions are my own.
DNF at 22%
When I saw the blurb and the book cover I was totally sold on this story. But when I started to reading it, it was just not what I expected it to be. I was not expecting the main character to be so immature. And also the way the story unfolds is just too unrealistic to me. I cannot immagine how a young girl leaves to travel the world with a hot boy (her description), who she only met and not telling her parent or any adult for that matter. The scenes are too jumpy and to me they feel unfinished. Like how for example, this young girl is left to wait for her cousin all alone and not knowing, if he will really show up and then in the next page that is also a new chapter this whole matter is just skipped and not even mentioned. They why bother to write such a scene in the first place? It just makes the reader feel confused and the story slowly becomes more underwhelming. I think had the author connected the scenes more and made the girl more mature I would have loved this story. But sadly due to the issues mentioned above, this is just not my cup of tea.