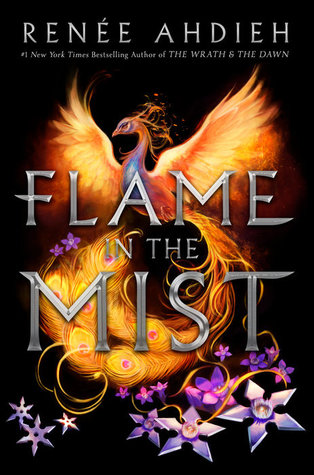 The only daughter of a prominent samurai, Mariko has always known she'd been raised for one purpose and one purpose only: to marry. Never mind her cunning, which rivals that of her twin brother, Kenshin, or her skills as an accomplished alchemist. Since Mariko was not born a boy, her fate was sealed the moment she drew her first breath.

So, at just seventeen years old, Mariko is sent to the imperial palace to meet her betrothed, a man she did not choose, for the very first time. But the journey is cut short when Mariko's convoy is viciously attacked by the Black Clan, a dangerous group of bandits who've been hired to kill Mariko before she reaches the palace.

The lone survivor, Mariko narrowly escapes to the woods, where she plots her revenge. Dressed as a peasant boy, she sets out to infiltrate the Black Clan and hunt down those responsible for the target on her back. Once she's within their ranks, though, Mariko finds for the first time she's appreciated for her intellect and abilities. She even finds herself falling in love—a love that will force her to question everything she's ever known about her family, her purpose, and her deepest desires.
my review
Flame in the Mist by Renee Ahdieh
My rating: 4 of 5 stars
ARC received in exchange for an honest review.
Well, that was quite the read. And to be honest, I don't usually read a lot of YA books with plots such as this one, but for some reason I did enjoy this book. Maybe it was the fantasy element, which to be honest surprised me as I at first did not think it could fit into this story. But in the end it was the perfect fit. It made the story more interesting and did explain some things that I was wondering about at the beginning of the story. And maybe it was the whole set up and the characters of the story that sold me on this book. I don't know but I am sure of one thing and that is to read the second book. This one does end on a cliffhanger and not a pretty one at that. Not giving away any spoilers but our main characters do make huge sacrifices, or so it at least seems, for the ones they love and wish to protect. I'm not sure what will happend in the second book but I'm curious to find out how the whole family drama will play out. As it is now, it's really intense. Not to mention what will happen on the throne. Royalty always has had many enemies around them and usually it's the closest to them that in the end bring them the most harm and heartbreak. Makes me glad we live in a world where those times, for the most part, are gone. Democracy definitely has it's good parts compared to royalty, at least in that aspect. No harem of women that are after your throat, not that the character in this book didn't deserve it, just saying…
Anyway, as already said, I did like the story and would recommend it to others for sure.