Dina DeMille may run the nicest Bed and Breakfast in Red Deer, Texas, but she caters to a very particular kind of guest… the kind that no one on Earth is supposed to know about. Guests like a former intergalactic tyrant with an impressive bounty on her head, the Lord Marshal of a powerful vampire clan, and a displaced-and-superhot werewolf; so don't stand too close, or you may be collateral damage.

But what passes for Dina's normal life is about to be thrown into chaos. First, she must rescue her long-distant older sister, Maud, who's been exiled with her family to a planet that functions as the most lawless penal colony since Botany Bay. Then she agrees to help a guest whose last chance at saving his civilization could bring death and disaster to all Dina holds dear. Now Gertrude Hunt is under siege by a clan of assassins. To keep her guests safe and to find her missing parents, Dina will risk everything, even if she has to pay the ultimate price. Though Sean may have something to say about that!
my review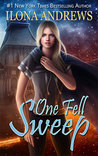 One Fell Sweep by Ilona Andrews
My rating: 4 of 5 stars
I cannot believe I've finished this book so quickly. Now what do I read next, huh??! It's been such a long time since I've read a good series – good by my standards. Nowadays I feel like the plots in PNR gender are so repetitive and about something that I already read in another book. There needs to be more diversity and originality. So imagine when I found out about this series, I was in my PNR book heaven! I mean to think that vampires and the like are actually aliens, ha! I love it! So it's safe to say that I really enjoyed this series and especially this book. I think this one is the best out of the three that I've already read. There's a fourth one coming, about Maud – Dina's sister, but it's not complete yet. And to be honest at first I didn't even now about it, but then I saw that the author publishes raw chapters on the net – for free, and then when the whole book is completed and edited it then gets published, so you can buy the whole complete book. That's actually a cool concept and to be honest I quite like it.
But back to this book. The reason that it's my favourite one in the series is because I felt like this time things were moving at a faster pace. The plot was great, as per usual, and I felt like the characters grew up a bit more. What made this plot that much better is the whole dilemma of saving a hunted and dying race and therefore maybe losing the sole reason of your existence. Now I dont' know about you, but had it been me I don't know if I could make the same choice that Dina made. It'd be too much of a gamble. But at the same time, that's what makes Dina so great. She just goes for it. Thankfully she has amazing family and friends that help her. And in this book it really shows just how much she's loved and cared for.
All in all, I love this series and can't wait for another Dina and Sean book!