#1 New York Times bestselling author Ilona Andrews launches a brand new Hidden Legacy series, in which one woman must place her trust in a seductive, dangerous man who sets off an even more dangerous desire…

Nevada Baylor is faced with the most challenging case of her detective career—a suicide mission to bring in a suspect in a volatile case. Nevada isn't sure she has the chops. Her quarry is a Prime, the highest rank of magic user, who can set anyone and anything on fire.

Then she's kidnapped by Connor "Mad" Rogan—a darkly tempting billionaire with equally devastating powers. Torn between wanting to run or surrender to their overwhelming attraction, Nevada must join forces with Rogan to stay alive.

Rogan's after the same target, so he needs Nevada. But she's getting under his skin, making him care about someone other than himself for a change. And, as Rogan has learned, love can be as perilous as death, especially in the magic world.
buy links
Amazon / Barnes & Noble / Audible / Kobo / Book Depository / Goodreads
my review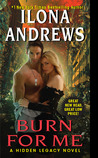 Burn for Me by Ilona Andrews
My rating: 4 of 5 stars
I've read some books by Ilona Andrews and I like how she creates interesting plots that leave a lot of room for next instalments. Her PNR series are very good, so when I was searching for new PNR reads, I knew this author wouldn't let me down. And she didn't. I really, really enjoyed Burn for me. It's quite different from her Kate Deniels series, at least to me.
There's obviously a lot of action and mystery but in this book there is more romance and I lived for that. It's not your usual romance story but we do get to see the potential to become an awesome pairing and I hope we'll get to see that in the sequel. Nevada is a strong character and I liked that she didn't take shit from anyone, especially Connor. He could be at times quite pushy and demanding but that added to his alpha charm as well. They had a rough start, since kidnapping and torture isn't exactly the best way to ge to know someone but they do make a strong team at the end. I cannot wait to read the sequel, I'm sure it will be as good as this one.