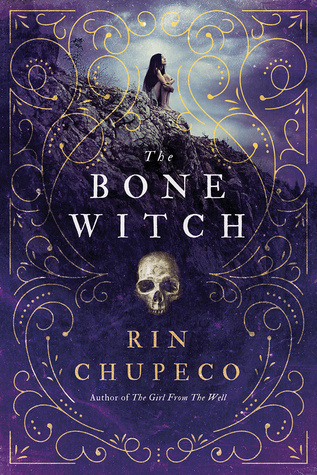 The beast raged; it punctured the air with its spite. But the girl was fiercer.

Tea is different from the other witches in her family. Her gift for necromancy makes her a bone witch, who are feared and ostracized in the kingdom. For theirs is a powerful, elemental magic that can reach beyond the boundaries of the living—and of the human.

Great power comes at a price, forcing Tea to leave her homeland to train under the guidance of an older, wiser bone witch. There, Tea puts all of her energy into becoming an asha, learning to control her elemental magic and those beasts who will submit by no other force. And Tea must be strong—stronger than she even believes possible. Because war is brewing in the eight kingdoms, war that will threaten the sovereignty of her homeland…and threaten the very survival of those she loves.
buy links
my review
The Bone Witch by Rin Chupeco
My rating: 3 of 5 stars
ARC received in exchange for an honest review.
This book has been sitting on my to-be-read shelve for so long and the reason is probably because it has so many pages. I tried to love it, I really did but at the end I couldn't find myself able to fully enjoy it. I got over 50% of the story and then I started skimming the rest. There were so many unnecesarry details and no real answers. At first I really liked it and it was interesting but then Tea came to the city and all went to hell. She spends three years nothing but being a cleaning laidy and she learns nothing about her magic, how to use it and how she can own it, so it doesn't end up owning her. So yeah…that was not what I had in mind that would happen when I started reading this book. Basically I felt like nothing happened the whole time she was in the city. I know that something must of have but by that point my attention and interest was long lost on this book. There is some action by the end of the story and Tea shows her powers, so that was a plus. Also I liked that we got the present and the past POV of Tea's story. But other than that, there wasn't much to my liking. I don't think I'm going to read the sequel but if you can get past the 50% mark and are still enjoying it, then go for it.