Zat is a dreamer from the distant future—a time when humans no longer dream and Earth is a desolate wasteland. He dreams of the beautiful Earth of the past, and a fiery-haired beauty named Babe. Against the wisdom of his peers, Zat decides to risk everything to travel back in time and live in Babe's dreams…

Babe is the perpetual new girl in town. Her father's job frequently moves the family around the country, and Babe just longs for a place to call home. As she settles into the sleepy town of Sugar Dunes, Florida, Babe begins to have strange dreams of a green-eyed boy named Zat. Night after night, Babe shows Zat her world. But the dreams come at the cost of nearly crippling migraines every morning. Babe's life outside of her dreams pales in comparison to her growing love for Zat and their time spent together.

But the more time Babe and Zat spend together in her dreams, the more Babe's pain increases, and Zat begins to question the reality of his existence. How can he live a life with Babe, when all they have is her dreams?

Can a dream become a reality?
buy links
Amazon / Barnes & Noble / Audible / Kobo / Book Depository / Goodreads
my review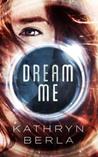 Dream Me by Kathryn Berla
My rating: 2,5 of 5 stars
ARC received in exchange for an honest review.
I remember getting this book a long while ago and was really looking forward to it. The blurb sounded exciting and intriguing, so I thought why not give it a go. So now I finally read it and I hate to say it but I'm actually quite disappointed by the weak plot.
The way this story started left me totally confused since the author doesn't tell us exactly what's happening. You get a teenager in the present time that moved to a new town because of her father's job. And then you have a boy that still lives on Earth but not really, since the Earth that we know is dying and the people have mutated to some sort of lizard like creatures. Which btw. I loved, a great spin on the main character. But what bothered me is that we get this information almost near the end of the story. So all this time I was practically wondering what Zat is and what the actual plot is. And, yes, the plot is super weak. It's starts of fine but then you read and read, nothing really happens. She lives her normal life, makes friends, gets a job and only meets up with Zet in her dreams and that only for a short period of time. So we actually almost don't get to see him in the real world. And then all of a sudden, the story comes to it's end. And you're left even more confused, like that was it? Huh? I expected more.