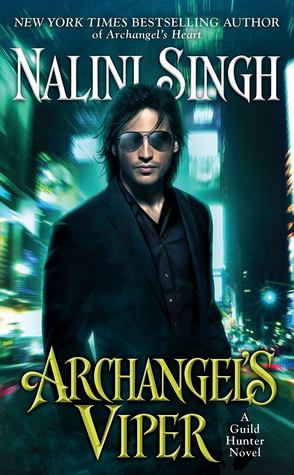 Enter New York Times bestselling author Nalini Singh's breathtakingly passionate Guild Hunter world with the story of a woman who isn't a vampire or an angel…or human…

Once a broken girl known as Sorrow, Holly Chang now prowls the shadowy gray underground of the city for the angels. But it's not her winged allies who make her a wanted woman—it's the unknown power coursing through her veins. Brutalized by an insane archangel, she was left with the bloodlust of a vampire, the ability to mesmerize her prey, and a poisonous bite.

Now, someone has put a bounty on her head…

Venom is one of the Seven, Archangel Raphael's private guard, and he's as infuriating as he is seductive. A centuries-old vampire, his fangs dispense a poison deadlier than Holly's. But even if Venom can protect Holly from those hunting her, he might not be able to save himself—because the strange, violent power inside Holly is awakening…

No one is safe.
buy links
Amazon ♦ Barnes & Noble ♦ Audible ♦ Kobo ♦ Book Depository
my review
Archangel's Viper by Nalini Singh
My rating: 3,5 of 5 stars
I was over the moon when I saw this new story from Nalini Singh. She's one of my all time favourite authors and I love her writing. So imagine my surprise to get the book before release date, I was ecstatic! I know, we are all wondering and waiting for Bluebell and Sparkle's story but Venom's an interesting character, too. I always wanted to know how he got made and what lead him to what and who he is today. We don't see enough of him in the previous books to really get to know him, so this story was great for me, since I got my long awaited answers.
Regards to the plot, as per usual, we get lots of action and I enjoy that a lot but this time I wanted more romance. I didn't really connect with both main characters and I feel so bad for it. I wanted to grow with them in their relationship but since the story starts off with both of them knowing each other for years, I felt a little let down. When I start reading a story, I expect it to have a proper beginning and not start off with characters knowing each other for god knows how long. It just takes away the anticipation for me. I already said, the connection between these two simply got lost for me in between all the angst and action and figuring out what the heck Uram did to these poor people. Not to mention my surprise by what Michaella birthed. That's just so wrong and just no… Good riddance, I tell ya!
Anyway…
Both Holly and Venom are awesome characters that make a great team. They have this love-hate relationship that slowly turns into a great friendship. Of course there are ups and downs, how could there not be but the main point is that they make both of them that much stronger as individuals. Both find something they've been missing and I was so glad fate brought them together. And although I wanted my share of Raphael/Elena POV's, we sadly don't get any of them. I can only hope the next story is about them or about the two best friends ever!
All in all, would I say this is my new favourite book? No. But is a fantastic PNR story that will leave you craving for more!