So this time I am lucky enough to be tagged to do The Reader Confessions tag by Romana @ A Book Nerd and The Wine Book Tag by Calliope @ Calliope The Book Goddess. Thank you both for the tag and you guys should really go check out their blog! Like…now… 🙂
the reader confessions tag
1. Have you ever damaged a book?
To be honest, I don't remember if I did. And since it hasn't happened lately I would say that no, I don't damage book. Now when it comes to scripts, that's a whole new world in where I'm the true destoyer of scripts.
2. Have you ever damaged a borrowed book?
Nope, as said I don't damage books. I also don't borrow books, since I read my free time books only in english and my friends or even the library don't have them in that language. Sadly… 😥
3. How long does it take you to read a book?
It totally depends on the lenght of the book, my time schedule and my mood. When it's a really great book I usually read a 350 pages long book in one sitting. But the the book isn't so entertaining it can take me months, that is if I don't DNF earlier.
4. Books you haven't finished?
Oh man, there are just too many. I even have on Goodreads a shelf for those books. There ae just a few books on that shelf that I managed to finish reading but most are DNFs. So here's the link to it and you can see all the books that lots my interest or were just really bad, at least to me. My latest DNF is Blood Song (Blood Singer #1) by Cat Adams. I just couldn't get into it.
5. Hyped/popular books you didn't like?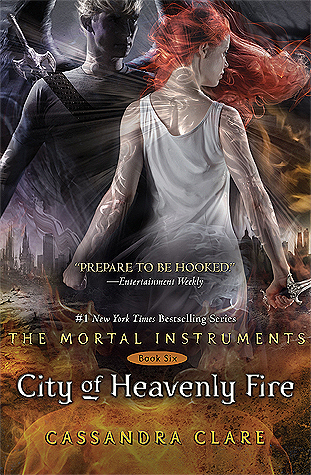 I have to say with a heavy heart that I didn' t like City of Heavenly Fire (The Mortal Instruments #6) by Cassandra Clare at all. I know, how dare I, but I simly couldn't like it like I did the previoous five books, which I loved. I had high, maybe too high hopes for this book and when it finally came out I was devastated by hold much of useless details it had. Those details about all the other characters made me hate this book. All I wanted was the MC's story and how their journey ended and not a side story from characters that I already forgot about or never even heard of! And you all know how thick this book is, over 700 pages, that is also what I don't like and I blame that all on those useless side stories.
6. Is there a book you wouldn't tell anyone you were reading?
Hmm, to my family I definitely wouldn't tell I'm reading an Alexa Riley book, since you know, it's erotica slash romance. But to my book friends, that would be what I tell first, lol. 🙂
7. How many books do you own?
I have probably over 1000 ebooks and over 60 books in paperbacks or hardcover. I know not much, but I only started to buy more books this year, since I found a great site for used books (a lot cheaper). Before that I only bought books that I've already read and were my favourites.
8. Are you a fast or slow reader?
I'd say I'm a slow reader. I know some readers that finisha book that I read in maybe eight hours in half the time that I do. So yeah… But that is also because I mainly see only on one eye, because the other eye's muscle isn't that developed.
9. Do you like to buddy read?
I've never tried to buddy read. I would love to, sure but since my time schedule is crazy lately I don't think I would finish the book as fast as my reading buddy and that would be a real shame, since you want to talk about the books you've read with them and I wouldn't be able to do that.
10. Do you read better in your head or aloud?
In my head. Always. If I read aloud I loose so much time while doing that and also it gets on my nerves to already know what it's written and then wait on my mouth to get the words out. I'm a very impatiend person.
11. If you were only allowed one book, what would it be and why?
Wow, that's just cruel. Honestly I don't know. Maybe I would merge all my favourite books into one file and so I would still have one book but with many separate stories inside. *evil laughter*
the wine book tag
Box Wine – a book people will judge you for liking but you like it anyway!
I love the Twilight books and I also like the movies. I know many don't but who cares, as long as I do that's what matters to me.
Organic Wine – a book that doesn't have any added crap in it and is just written perfectly.
Any Nalini Singh book. I love her Psy-Changeling series but also her Guild Hunter series. Both are amazing and written in a smart way. You simply can't go wrong with her.
Gluehwein – a really spicy, Wintry read.
Captured (The Captive #1) by Erica Stevens. I've read this one awhile ago but I remember I really liked it. It's PNR/Romance read ad I love the fantasy world they live in. Also their journey are pretty amazing.
Sauvignon Blanc – a really sharp and aggressive read that you couldn't put down.
The Tied Man (The Tied Man #1) by Tabitha McGowan. Now this book is so not for everyone. But for me it was like a one in a million book and Ioved the story. I wouldn't re-read it (maybe once every 5 years) because it's a heavy book that has a lot of abuse.
Pinot Noir – a book you didn't expect much from but ended up getting blown away.
A Promise of Fire (Kingmaker Chronicles #1) by Amanda Bouchet, yes, definitely that one. I can't tell you enough how much I loved this story. It's absolutely amazing.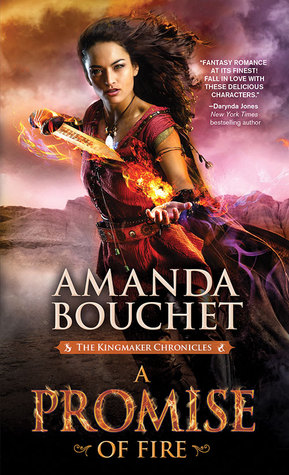 Chardonnay – a good summer read that was super zesty.
The Friend Zone (Game On #2) by Kristen Callihan. This book is super funny and I loved the romance in it. Both main characters are so fantastic and I wished we'd have got more from their journey in a longer book. But oh well.
Rose – a book that has a little bit of everything in it.
Angels & Demons (Robert Langdon #1) by Dan Brown. This book is fantastic. It has romance, suspense, amazing fiction, mystery, murder… Simply an awesome book!
Shiraz – a full-bodied book that is dark and juicy.
This is War, Baby (War & Peace #1) by K. Webster is a dark romance book and one of my favourites. It's not for everybody (lots of violence, abuse, murder…) but the way it's written is so amazing. I loved the plot and both main characters. Their journey is just so hard wretching but also so beautiful.
Merlot – a smooth, easy read with a soft finish.
I'd say The Secret Horses of Briar Hill by Megan Shepherd. Now this book has two endings. You can choose which one you want to believe in and I think that's the magic of this story. The plot is so beautiful and touching. This is a book that really touches your heart and stays in your memory.
Champagne – your favorite book.
I have too many to just have one favourite book. But the most recent favourite is Blaze by Suzanne Wright. I've waited for this book what feels like an eternity but now that it's finally out I can say that I loved it so much and I kid you not, when I finished reading it I wanted to re-read it immediately.
And that is it for these two tags. As for my nominees, I could write a long list of bloggers that I know will have fun doing this tag, but you know what, I'm not going to do that. I think it's even better to include all of you who see this post be nominated. So I nominate ALL OF YOU!!! 🙂