It's already July, can you believe it?!!! I feel like time moves so fast I can barely keep up with all that's been going on in my life, it's crazy!!! So since we are already past the first half of the year it's only fitting for the mid year book freak tag. Thank you so much THEORANGUTANLIBRARIAN for tagging me for this awesome event!!!
Best Book You've Read Yet in 2016
Wow, that's tough question. I have read so many books that are really good but if I had to pick only one then it would be Slave to Sensation (Psy-Changeling, #1) by Nalini Singh. I've been planning on reading this series for so long and I knew it was pretty good. But once I actually read the first book I knew what the fuss was all about. The story is just amazing!!!

Best Sequel You've Read So Far in 2016
I loved the first book This is War, Baby by K. Webster, so there was no question about reading the sequel, This is Love, Baby. I loved both books so much, no joke. It's the first time I've read someting from K. Webster and I was not disappointed.
New Release You Haven't Read Yet But Want To
There are so many books on my TBR and I know I'm never going to read all of them but I really look forward to reading All the Rage by T.M. Frazier.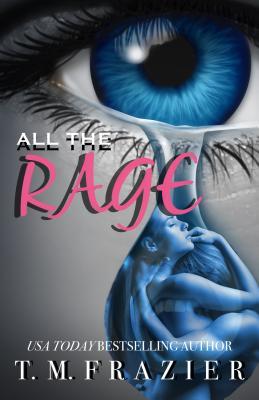 Most Anticipated Release for the Second Half of the Year
Hmm, let me think about this one. I guess stalking the author till the release date qualifies, so I'm gonna go with Blaze by Suzanne Wright. I've read her first book Burn more than three times already and I simply love that book.
Biggest Disappointment
Don't hate me but I it's Ladies Man (Manwhore, #3) by Katy Evans. I got this one as an ARC and I really looked forward to it. I don't know what I expected but I felt like the book had so much more potential, so yeah, I was left wishing for more. 
Biggest Surprise
That's definitely Dark Secrets by Mikki Smith. I got this book from the author and at first I knew nothing about it, just that it's more dark and has some mystery in it. By the end I really loved the story. It's something different than what I'm used to, so that was quite the surprise read.
Favourite New Author
K. Webster and Cynthia Eden. Since I've already mentioned K. Webster I have to also mention Cynthia's Blood and Moonlight Series that I've fallen in love with. I've read the first two books in that series, the third one is still waiting to be read but yeah, Cynthia sure knows how to write great PNR books with lots of action. 
Newest Fictional Crush
Now that's just not fair. I read so many books and I feel like I'm falling in love with every single one of those characters. I love Alexa Riley books and their heroes are just OTT alpha but so sweet to their women. Also Maverick from Legent by Katy Evans stole my heart for sure.
Newest Favourite Character
Nope, can't choose just one. I love the Psy-Changelling series by Nalini Singh, so these character all kick ass. Also as mentioned above, Jane and Aidan from Blood and Moonlight Series. 
Book That Made You Cry
I just finished reading The Drifter by Kathy Coopmans and it's such a beautiful story. I didn't cry but I was really close to.

Book That Made You Happy
The Curse of Tenth Grave(Charley Davidson, #10) by Darynda Jones. Her books are so funny and I love Charley and Reyes, so of course that's my pick.
Favourite Book to Film Adaptation
Sadly I didn't read any such book. I know, shame on me…
Favourite Post You Have Done This Year
That was for sure the Release Day Blitz for Underwater by Maayan Nahmani. I've knows Maayan on Goodreads for awhile now and I was so happy when her debut book came out. I of course had to blog about it.
Most Beautiful Book You've Bought This Year
It's the Twist Me trilogy by Anna Zaires. I loved the new cover and the trilogy is so amazing. For all of you who haven't read the story yet, it's a must read!!!
What Books Do You Need to Read by the End of the Year
That's an impossible question. I want to read all books on my TBR but we all know that's not happening, so I'm gonna pick An Ember in the Ashes by Sabaa Tahir, Cinder by Marissa Meyer and Sin Undone by Larissa Ione. I just bough them in paperback on Book Depository and for a super cheap prize, like $5 to $8 and I thought that's just too good to be true, so I simply put them in my basked and now I own them. 🙂
I had so much fun making this post! I tag:
Jead @ The Bibliophile Blogs
Carrie @ Carries Book Reviews
Eliza @ Relentless Romance
Jeany @ jeanyjanez
And now it's your turn to have fun posting!!! 🙂